DO I SCHEDULE A 60 MINUTE MASSAGE OR A 90 MINUTE MASSAGE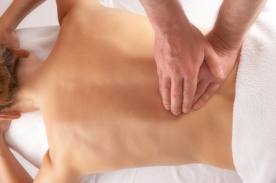 There have been a lot of discussions about whether it's better to get a 60 or a 90 minute massage. I tend to believe a 90 minute massage is typically a better deal. Yes, it does bring the practitioner more money as many would think, but there are other reasons why I endorse a longer massage.
Beyond money, clients who get a 90 minute massage get more of their body worked upon. They also get more time if they need extra attention focused toward a specific pain or ache. For instance, during a typical 90 minute massage I am able to work 30 to 45 minutes on someone's back and shoulders (the most typical area for pain & soreness), and still have time to work the rest of the body while prone (facing down), and supine (facing up). I am able to provide full relaxation techniques if desired.
Next, is the difference between a 60 minute massage and a 90 minute massage. As I stated above, there are many parts of the body I can really work when doing a 90 minute massage. However, with a 60 minute massage I can only do so much. I can work the entire body, but it isn't usually as intense. Relaxing someone isn't usually difficult during a 60 minute massage, but working on a specific area of pain can be. If I work on a person who requests that a certain area of the body be worked more than other areas, then I typically will need to reduce the time or skip another part of the body.
Now, of course, there are benefits to a 60 minute massage as well, I just feel that there are more benefits to a 90 minute massage. As for a 60 minute massage, I believe it can work well for specific areas of the body and for getting deep tissue work in specific areas. I also believe, as I said before, that a 60 minute massage is good for relaxation. In addition, there are times when someone just needs to be touched, so a 60 minute massage is great to satisfy that need.
Finally, although my position is that a 90 minute massage is better, I have to conclude that any massage is better than none. So if a 60 minute massage is all you can afford, or need, or want, then go for it. I provide both, and of course, it is ultimately up to the client.
Wishing you Peace, Harmony and Balance