MAKE YOUR OWN SHAPABLE ICE PACK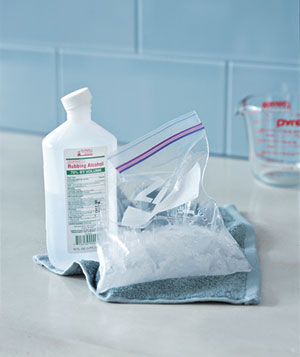 I often find myself talking to my clients about icing themselves and refer them to a local drug store or the use of frozen bag of peas or corn. Ice packs are an essential to keep at your home for injuries, swelling, tooth aches or headaches.
I recently went to a drug store to price their ice bags and they are really pretty pricey and do not come in an array of sizes for different body parts.
So I went on a google search frenzy and all the homemade ice bags are all created with about the same ingredients.
So here goes:
Mix 1 part rubbing alcohol with 3 parts water in a ziploc bag and put in the freezer. (The alcohol will prevent the water from freezing  completely.)
When it's frozen, wrap with a towel or cloth of some sort and apply.
You can make several with different size freezer bags for the different sizes and different colors just for those who like accessorizing.
Tip: If the mixture freezes too hard, just add a little more alcohol. If it's too slushy, add a little more water.