Thai Herbal Compression Ball Massage
Thai Herbal Ball Massage is a massage treatment that uses heated medicinal herbal compresses to induce a deep relaxation, ease muscular tension and  boost the body's energy level.  This is a traditional massage incorporating Swedish and Thai techniques with the use of herbal infused balls to relax, stretch and open up the body's vital pathways allowing "Prana" (life energy) to flow.  The herbal compress is made from a traditional formulation that includes kaffir lime, tumeric, camphor, lemongrass, and other herbs known for their medicinal properties.  This massage can help with ailments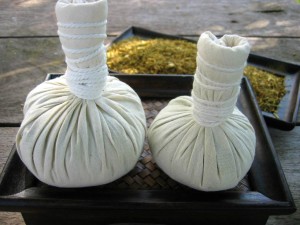 such as stiff, sore or pulled muscles and ligaments, back pain, arthritis, chronic pain or injury, migraines, and chronic stress and anxiety.
The herbal balls allow us to provide aromatherapy, thermal therapy and herbal therapy all at once in a modality that is new and unique.  You will feel both intensely relaxed and energized by this restorative treatment!
Following your session, you are encouraged to take the balls home and use in your bath or, if properly dried out, you can bring them back and save money on another Thai session.  Each one should have about 9 additional uses.