WHAT IS REFLEXOLOGY
Reflexology is a form of bodywork that focuses primarily on the feet.
There is often confusion between reflexology and massage and what each can provide. The power of touch is important to both, and both involve the use of the hands, although reflexology uses the thumbs and fingers, instead of the entire hand. Massage focuses on the muscular system and working muscles, while reflexology concentrates on the nervous system, working the nerve endings in the feet, ears and hands.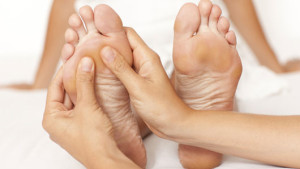 How does it work?
The underlying theory behind reflexology is that there are "reflex" areas on the feet and hands that correspond to specific organs, glands, and other parts of the body.
For example:
the tips of the toes reflect the head
the heart and chest are around the ball of the foot
the liver, pancreas and kidney are in the arch of the foot
low back and intestines are towards the heel
He believed that certain areas on the feet and hands were linked to other areas and organs of the body. This concept was furthered by physiotherapist Eunice Ingham into the modern practice of reflexology.
Practitioners believe that applying pressure to these reflex areas can promote health in the corresponding organs through energetic pathways.
Dr. William H. Fitzgerald, an ear, nose, and throat doctor, introduced this concept of "zone therapy" in 1915. American physiotherapist Eunice Ingram further developed this zone theory in the 1930's into what is now knows as reflexology.
A scientific explanation is that the pressure may send signals that balance the nervous system or release chemicals such as endorphins that reduce pain and stress.
What will I feel?
Most people find reflexology for the most part to be very relaxing.
Reflexology shouldn't be painful. If you feel discomfort, be sure to tell the reflexologist. He or she should work within your comfort zone.
Some areas may be tender or sore, and the reflexologist may spend extra time on these points. The soreness should decrease with pressure.
If you're ticklish, not to worry. The reflexologist applies firm pressure to the feet.
Wishing you Peace, Harmony and Balance