THE BENEFITS OF KINESIO TAPE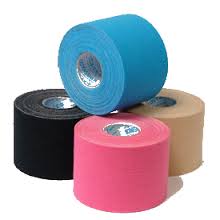 Kinesio tape is not just for athletes. It is beneficial for anybody with bones, ligaments, tendons and muscles- including horses.
I use Kinesio Tape in my practice and have had very good results both on myself and on my clients. I was trained in the Kinesio Tape application through certification workshops held by Kinesio. I am both a member and a technician of Kinesio Taping Association International. I will finish my last two levels in August and by increasing my knowledge I hope to enhance the recovery rate of my clients.
I have used Kinesio Tape for posture correction, space correction, mechanical correction, swelling and edema, as well as for pain. Typically I apply it after a massage, and also offer the option of a taping session to retape the area.
I found an interesting and informative article which better explains the benefits of this technique. Here is the link:
http://www.prologuecycling.com/the-benefits-of-kinesio-taping/
Wishing you Peace, Harmony and Balance.